5 Expert Tips When Riding Your Motorbike in a Group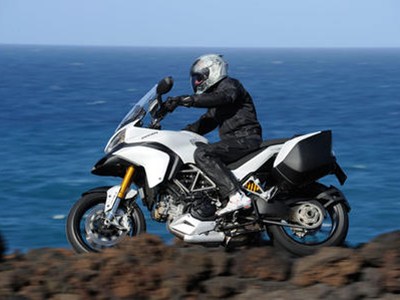 It is true about the saying "Two is company and three is a crowd." But in the case of riding motorbike in group, you should think about that. Whether you're cruising with friends, relatives or the motorcycle club you joined in, sharing the experience of a group cruise can be very exciting. It is also exciting with the part where you share snacks stored in your luggage. To ensure that your group riding trip stays safe and fun, here are five tips:
Tip #1 Beware of Possible Dangers
In a motorcycle group tour, it is vital that all riders are constantly in-sync. Riders should also expect the unexpected. Basically, if you think that one member of the group can be fickle during a group tour, it would be best to not let that person join the trip. If there is someone who you think would be more prone to cause any accident, it's better to leave that person safe than sorry.
Tip #2 Maintain Your Distance
This is very, very important for all the members of the riding group. Riders should keep enough distance between other riders. At least maintain a gap of 5 seconds between you and the rider in front of you. Also, you should maintain a gap of 2 seconds between you and the rider that is beside you. This is to increase the rider's field of view and it also provides more solid formation. But, when the roads are zigzag or curvy, just maintain a single file.
Tip #3 Communicate
Before you hit the road, it is important to communicate with all the other riders. Communication is the key and this should always be the beginning of every trip. From there, you can tackle issues like the next stop or the final destination. This is also the time to confirm the itinerary of the entire group. Moreover, this is when the group discusses weather forecasts and alternate roads - if there are road conditions, such as traffic or if the road is being fixed. This will let all the members of the group comfortable.
Tip #4 Focus on the Rider Ahead, Beside and Behind You
The next important thing is to communicate visually after you hit the road. You have to be aware of the location of the other riders and how the location can change. You should always have a view of the rider ahead of you and your reflection should be visible in his bike's mirror. Also, you should see the reflection of the rider behind you - in your bike's mirror.
Tip #5 Never Keep Your Eyes Glued on the Rider's Back In Front of You
Instead of focusing on the back of the rider who's ahead of you, use your vision and scan the area in front of the rider. Your eyes should be observing 2-6 seconds ahead of where you are. The faster your speed when on the road, the farther you should be looking. When one rider reacts, there should be a domino effect. In short, if you're going to observe other drivers around you, use your peripheral vision.
Group riding can be really exciting. But, ensure that you all follow the fundamentals of motorcycling safety to avoid accidents.
Need Finance is 100% Australian owned and has been operating since January 2001. We currently have eight offices conveniently located in Queensland, New South Wales and Victoria. We are looking to expand Australia wide in the very near future.
Our experienced staff are committed to providing fast friendly service, helpful advice, flexible options and great deals.
We have direct links with over 20 major Australian Financial products which means we can tailor a loan facility that best suits your needs.
We are here for you and we wish to build a long lasting relationship with you. If it's a personal, business or whether it's motorbike loans we are able to cater to all your financing needs.