3 Essential Motorbike Safety Accessories for a Safe Ride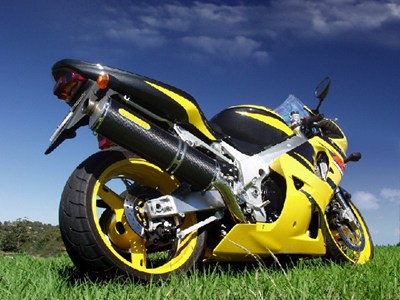 Motorcycling is a very popular hobby for a lot of individuals. Motorbikes are fun to drive and offer a great deal of excitement and adrenaline rush. But, no matter how experienced you are as a rider, accidents may still occur. It is smart for riders to take safety precautions.
While some of the given may be a bit obvious, there are expert riders who completely forget or neglect the basics of safety. With proper safety gear, patience and practice, motorcycling can be a lot of fun!
The 3 Most Important Safety Accessories
Using proper safety accessories is best for all motorcyclists. However, even the most experienced rider will forget to wear the proper gear. Although in some states it is not a law, the safety gear should always be worn when riding a bike.
Helmet
A helmet should be perfectly fit to the head of the rider. There are motorcycle dealers that will fit helmets after purchasing a motorcycle. But, if you're not sure about the proper type of helmet to use, you should consult with a dealer, or perhaps a licensed rider.
Of course, this is not the only piece of safety accessory that you should have. When biking, you also need something to protect you from getting wind burn.
Let us not go to the next accessories.
Safety Clothes (Quality Pants/Jeans and Jackets)
As mentioned above, these can all protect your skin and the body. You can get wind burn, sun burn or if you fall on your bike, can prevent you from minor scratches/wound.
You need to select those made with quality materials. Choose the type that will not easily tear. This is important to be able to protect your skin and your body.
Of course, other accessories, including gloves, elbow pads, knee pads are important too. This, however, can be optional. But, for maximum protection, you should wear them all, especially if you're into sports bikes.
Boots / Shoes
When riding a motorcycle, it is not right to just wear heels, sandals or even slippers! That's a big NO-NO! It is a smart idea to wear riding boots or shoes. This footwear can protect your feet - and even you if in case the breaks malfunction.
It can also protect your feet from getting blisters while riding the motorcycle. And we all know that the weather is unpredictable, so rain or shine, your feet are comfortable and protected!
Keep in mind that these items are investments. It only takes a few feet to be injured, so don't take such risk. Avoid being lazy when it comes to wearing safety gear because it only takes one time to do permanent damage.
Search the items that you want to purchase as it can save you time and money. As you ride, you'll figure out the items that make you comfortable, since new things need some time to break it in.
So use your gear before you rev up that engine! Enjoy your ride on two wheels!
Need Finance is 100% Australian owned and has been operating since January 2001. We currently have eight offices conveniently located in Queensland, New South Wales and Victoria. We are looking to expand Australia wide in the very near future.
Our experienced staff are committed to providing fast friendly service, helpful advice, flexible options and great deals.
We have direct links with over 20 major Australian Financial products which means we can tailor a loan facility that best suits your needs.
We are here for you and we wish to build a long lasting relationship with you. If it's a personal, business or whether it's motorbike loans we are able to cater to all your financing needs.